HILUX CONQUEST 2.8 4x4 A/T
Starts at
₱ 1,937,000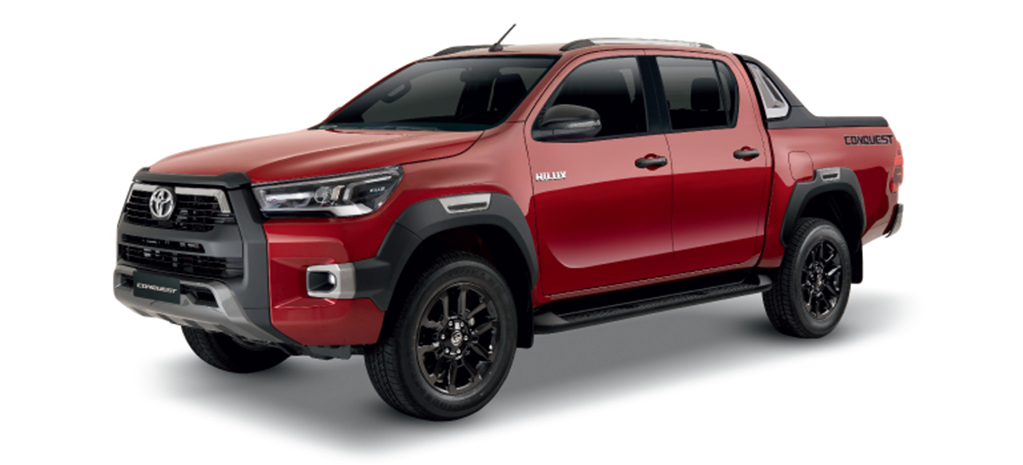 HILUX CONQUEST 2.8 4x4 M/T
Starts at
₱ 1,862,000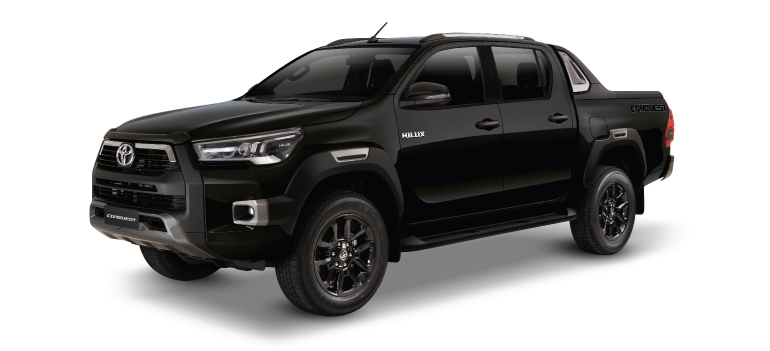 HILUX CONQUEST 2.4 4x2 A/T
Starts at
₱ 1,562,000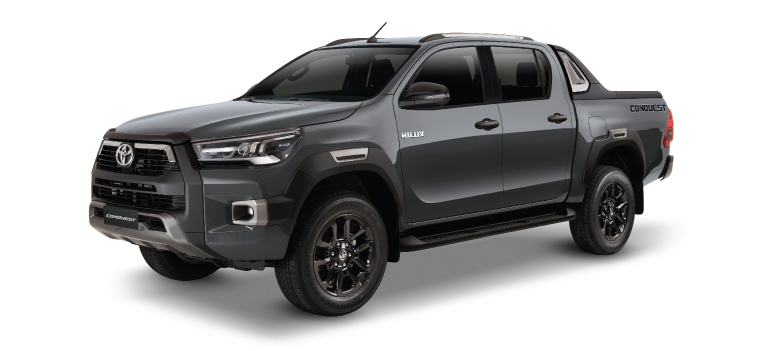 HILUX CONQUEST 2.4 4x2 M/T
Starts at
₱ 1,486,000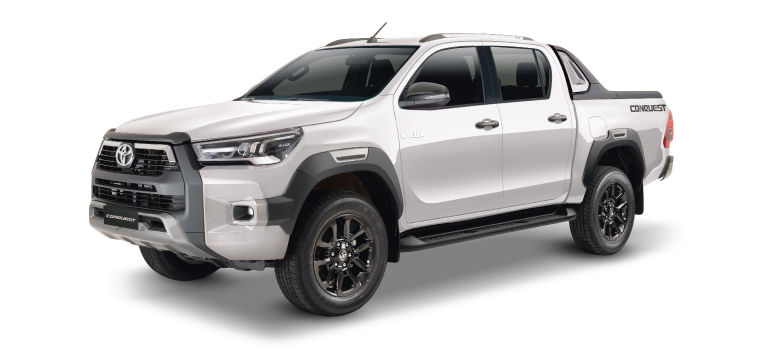 HILUX 2.4 G 4x2 A/T
Starts at
₱ 1,379,000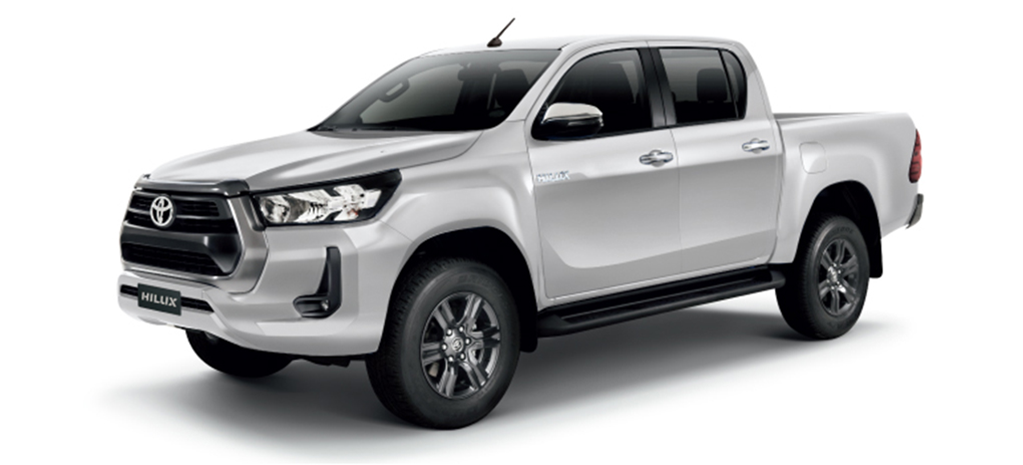 HILUX 2.4 G 4x2 M/T
Starts at
₱ 1,303,000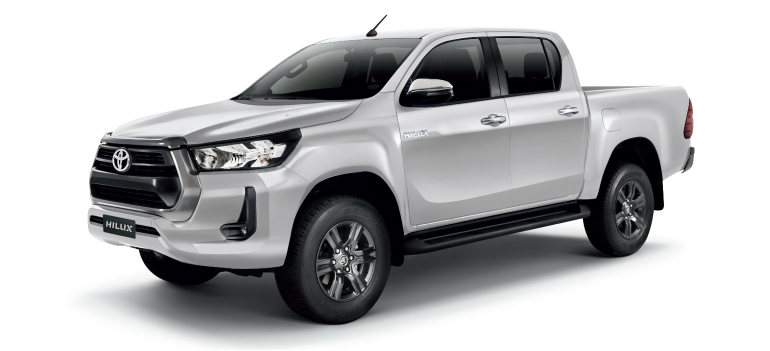 HILUX 2. 4 E 4x2 M/T
Starts at
₱ 1,174,000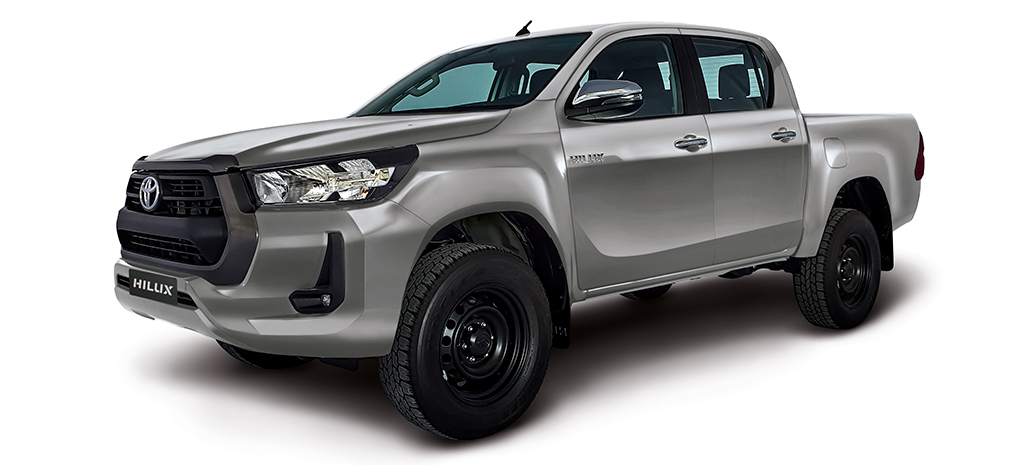 Features
---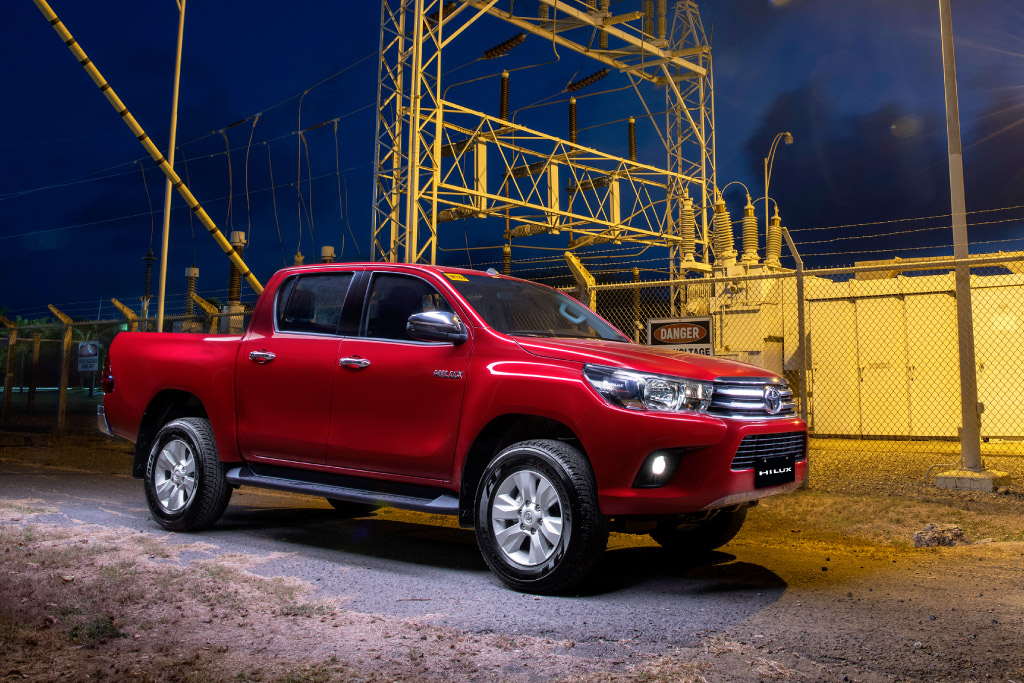 The Revolution of Drive
Bigger, bolder, and better. The all-new Toyota Hilux lets you traverse all terrains and conquer all domains so you can go farther and further than ever before.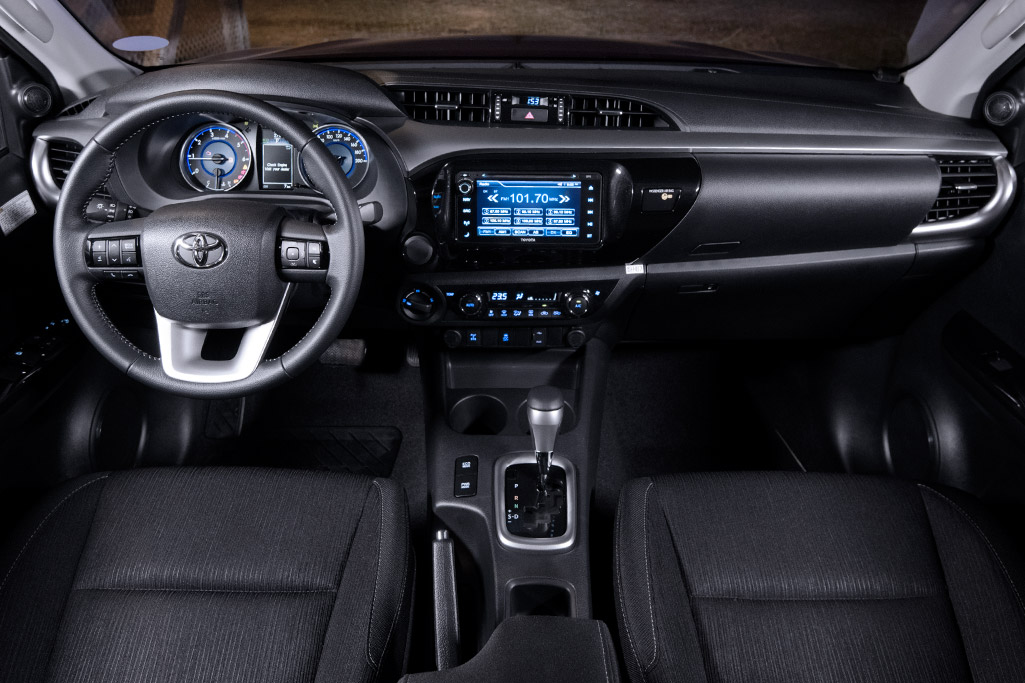 Ultimate Comfort, Ultimate Control
The Toyota Hilux is equipped with an ergonomic, multi-functional dashboard that provides only ultimate comfort and convenience to the driver, and all witin the reach.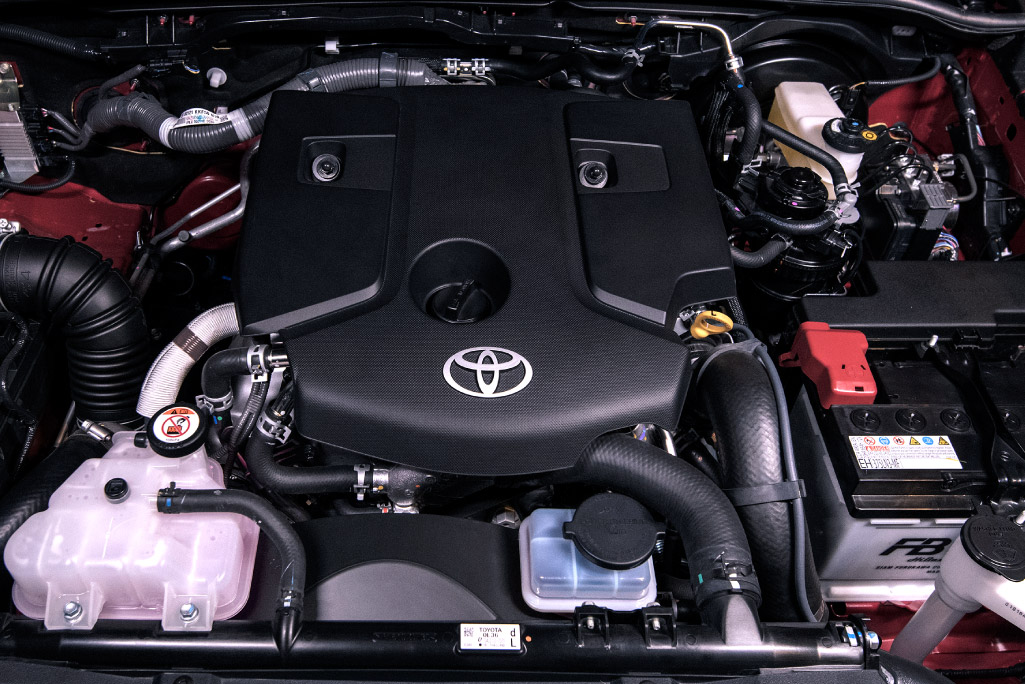 Power with Purpose
The Hilux is equipped with a silent, state-of-the-art, 4-cylinder, 2.8L GD engine that provides more power, more torque, and more fuel efficiency.
Powerful Protection
Aside from front, side, curtain shield, and driver knee SRS airbags, the Hilux has a reversing camera that helps you back up into tight spaces and avoid obstacles behind the vehicle.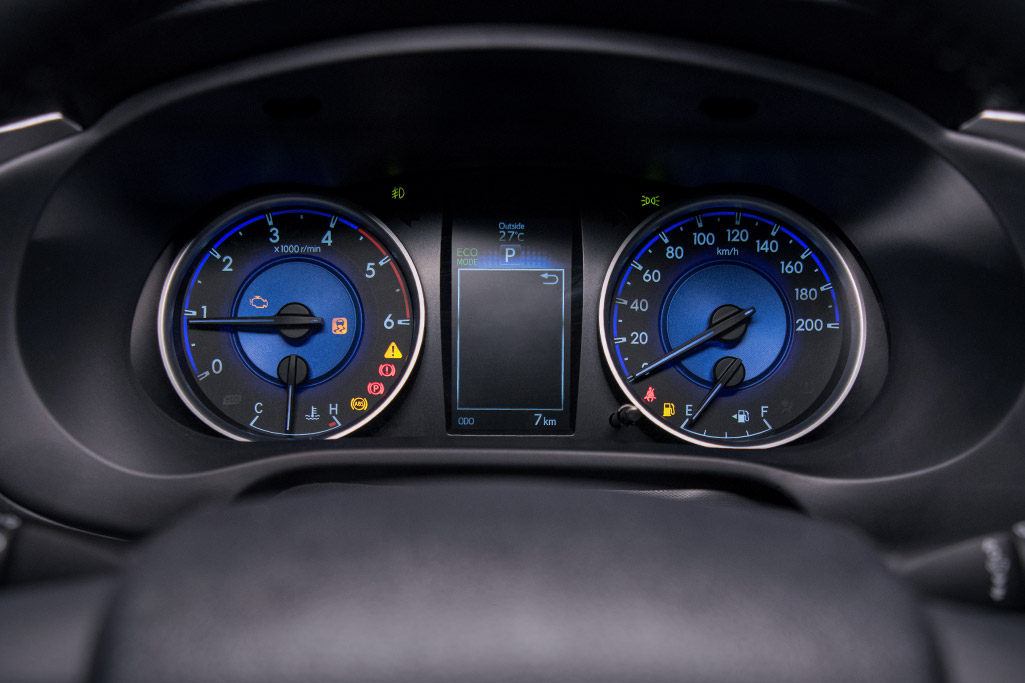 Controlled Traction and Steering
For on- and off-road conditions, the Hilux keeps you moving even in adverse conditions with the Active Traction Control that applies brake force to a wheel that may be slipping. The vehicle also helps determine exact steering direction, particularly in rough terrains, with a multi-information display showing tire angle guidelines for easier navigation.
Specifications
---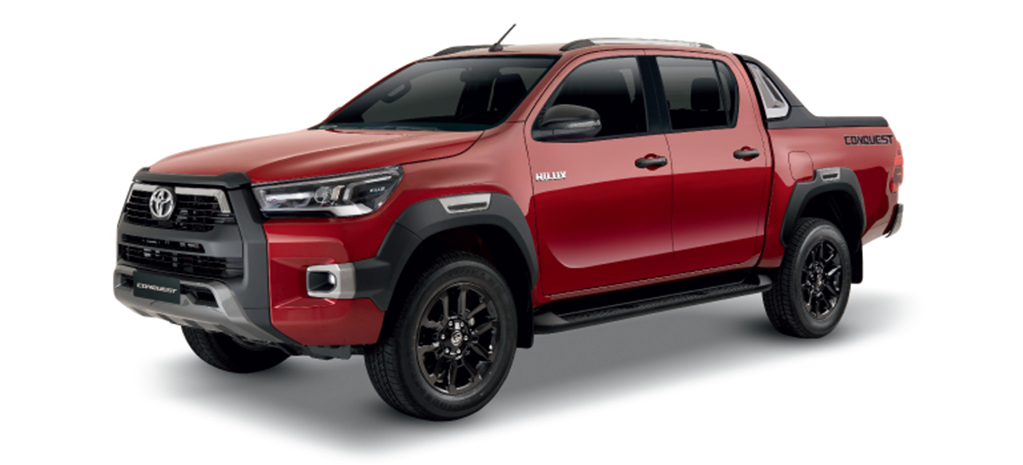 HILUX CONQUEST 2.8 4X4 A/T Emotional Red
₱ 1,957,000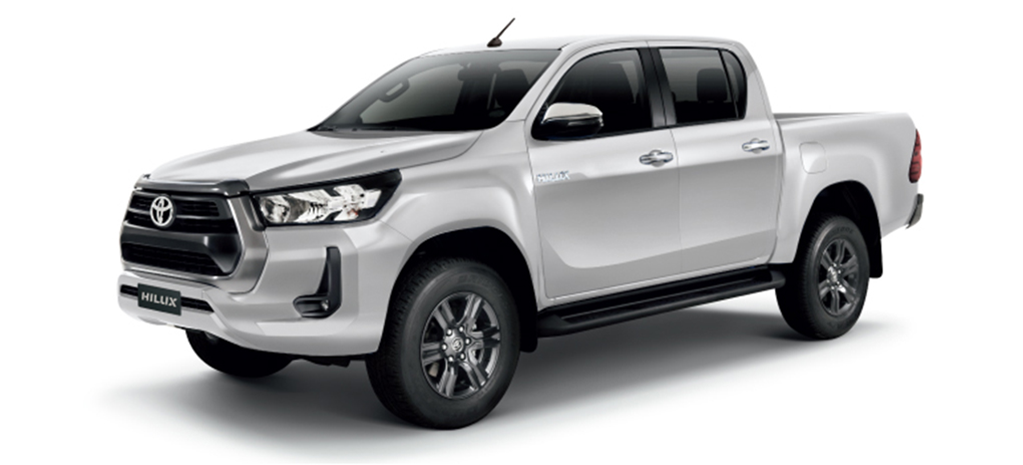 HILUX CONQUEST 2.8 4X4 A/T Super White
₱ 1,937,000
2.8L Diesel, 4-Cylinder, 16-Valve DOHC Variable Nozzle Turbo with Air-cooled Intercooler
2.8L Diesel, 4-Cylinder, 16-Valve DOHC Variable Nozzle Turbo with Air-cooled Intercooler
Ventilated Discs/ Drum Type
Ventilated Discs/ Drum Type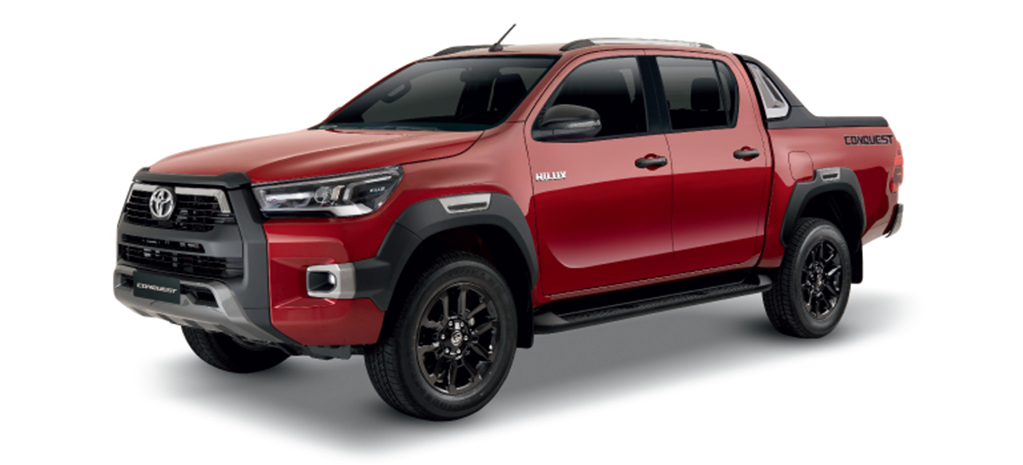 HILUX CONQUEST 2.8 4X4 M/T Emotional Red
₱ 1,882,000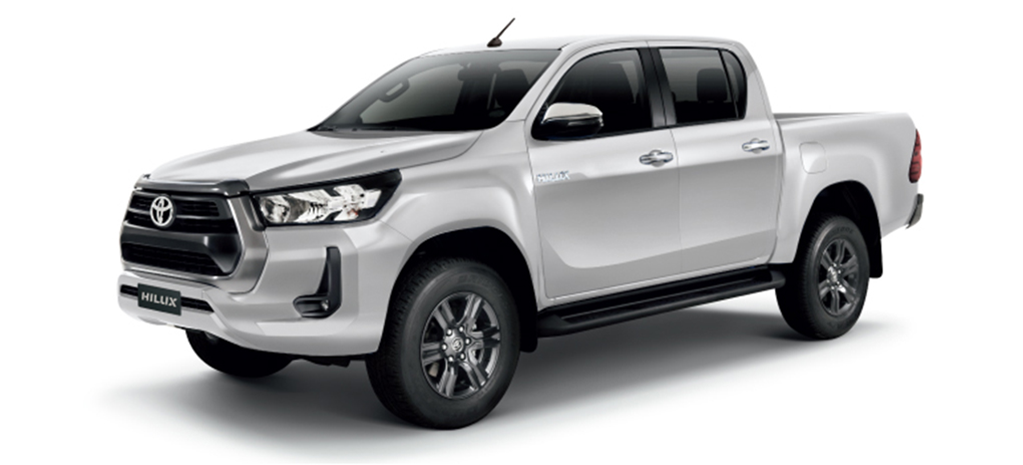 HILUX CONQUEST 2.8 4X4 M/T Super White
₱ 1,862,000
2.8L Diesel, 4-Cylinder, 16-Valve DOHC Variable Nozzle Turbo with Air-cooled Intercooler
2.8L Diesel, 4-Cylinder, 16-Valve DOHC Variable Nozzle Turbo with Air-cooled Intercooler
Ventilated Discs/ Drum Type
Ventilated Discs/ Drum Type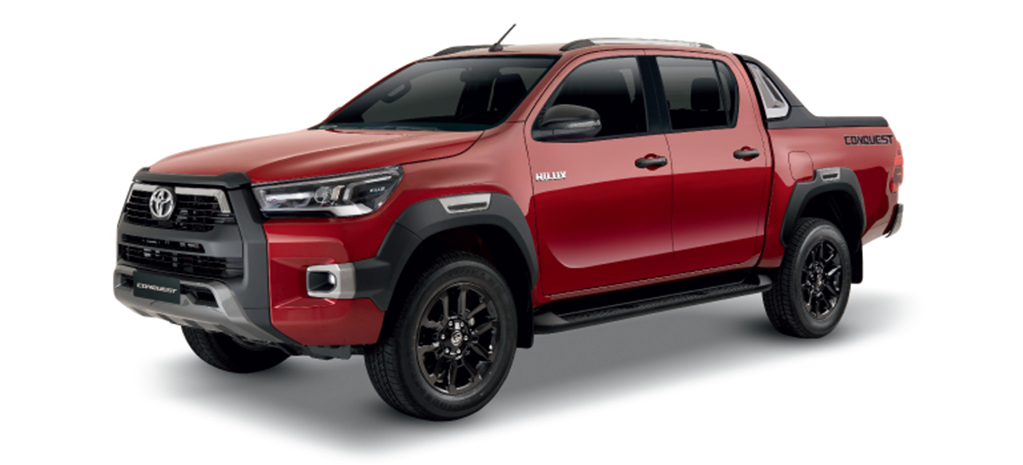 HILUX CONQUEST 2.4 4X2 A/T Emotional Red
₱ 1,582,000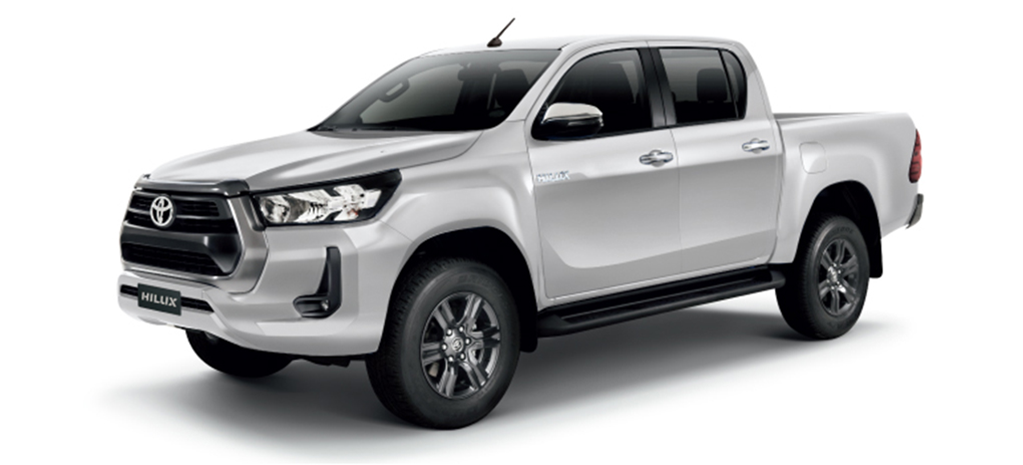 HILUX CONQUEST 2.4 4X2 A/T Super White
₱ 1,562,000
2.4L Diesel, 4-Cylinder, 16-Valve DOHC Variable Nozzle Turbo with Air-cooled Intercooler
2.4L Diesel, 4-Cylinder, 16-Valve DOHC Variable Nozzle Turbo with Air-cooled Intercooler
Ventilated Discs/ Drum Type
Ventilated Discs/ Drum Type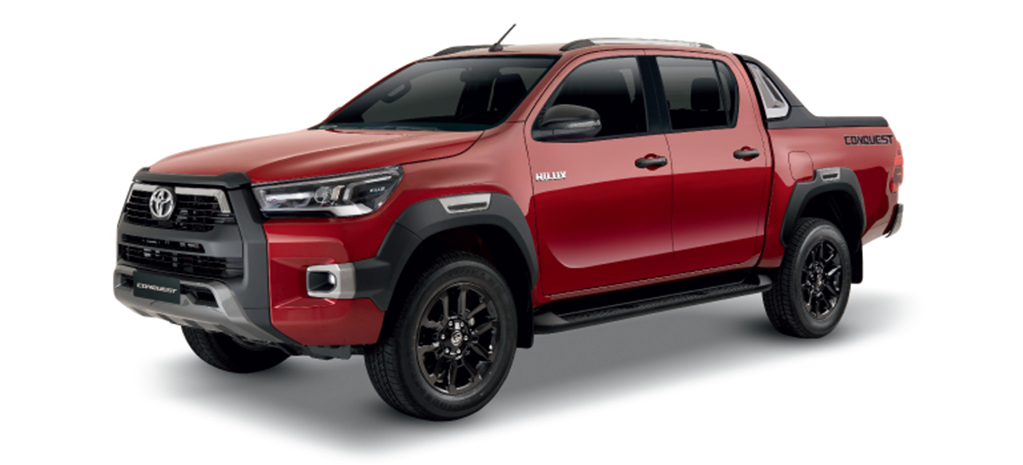 HILUX CONQUEST 2.4 4X2 M/T Emotional Red
₱ 1,506,000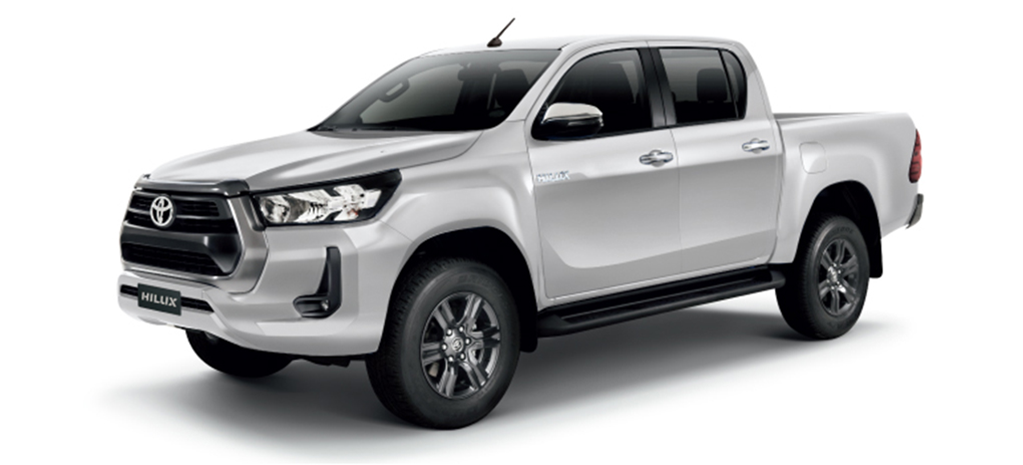 HILUX CONQUEST 2.4 4X2 M/T Super White
₱ 1,486,000
2.4L Diesel, 4-Cylinder, 16-Valve DOHC Variable Nozzle Turbo with Air-cooled Intercooler
2.4L Diesel, 4-Cylinder, 16-Valve DOHC Variable Nozzle Turbo with Air-cooled Intercooler
Ventilated Discs/ Drum Type
Ventilated Discs/ Drum Type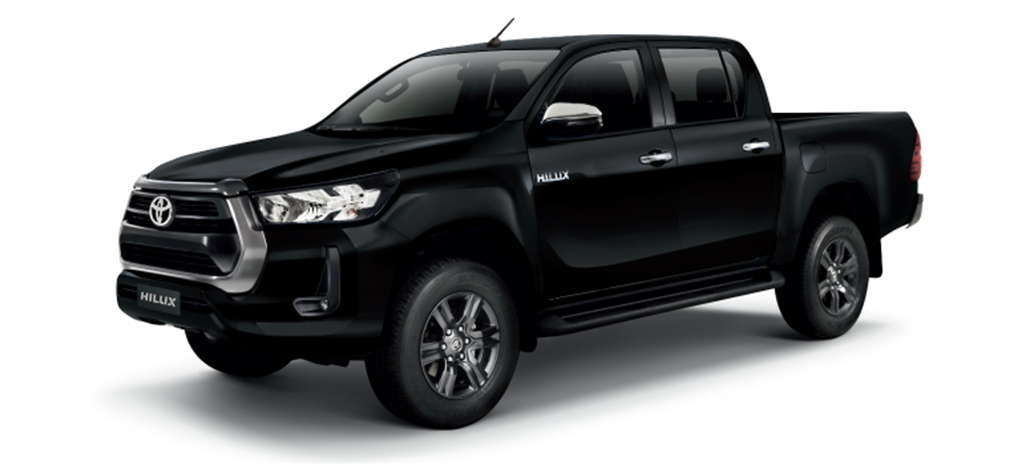 HILUX 2.4 G 4X2 M/T Attitude Black
₱ 1,303,000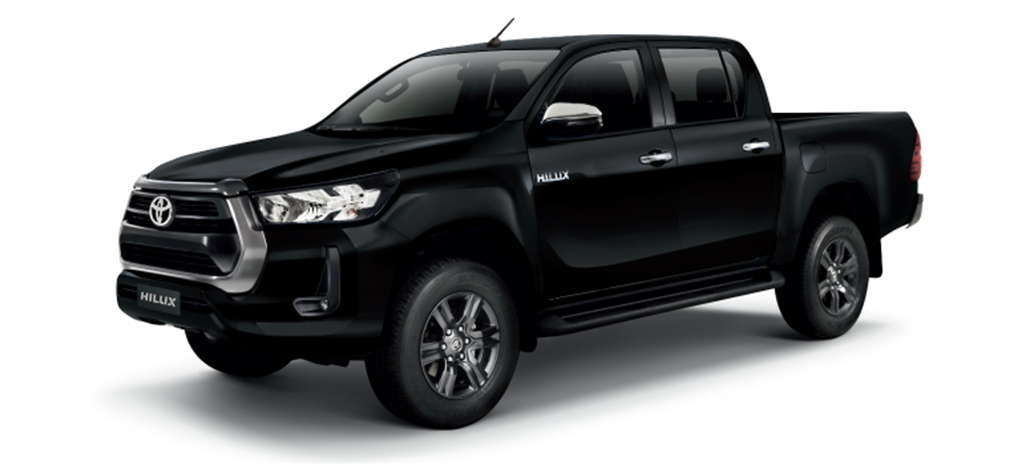 HILUX 2.4 G 4X2 A/T Attitude Black
₱ 1,379,000
2.4L Diesel, 4-Cylinder, 16-Valve DOHC Variable Nozzle Turbo with Air-cooled Intercooler
2.4L Diesel, 4-Cylinder, 16-Valve DOHC Variable Nozzle Turbo with Front Mounted Intercooler
Ventilated Discs/ Drum Type
Ventilated Discs/ Drum Type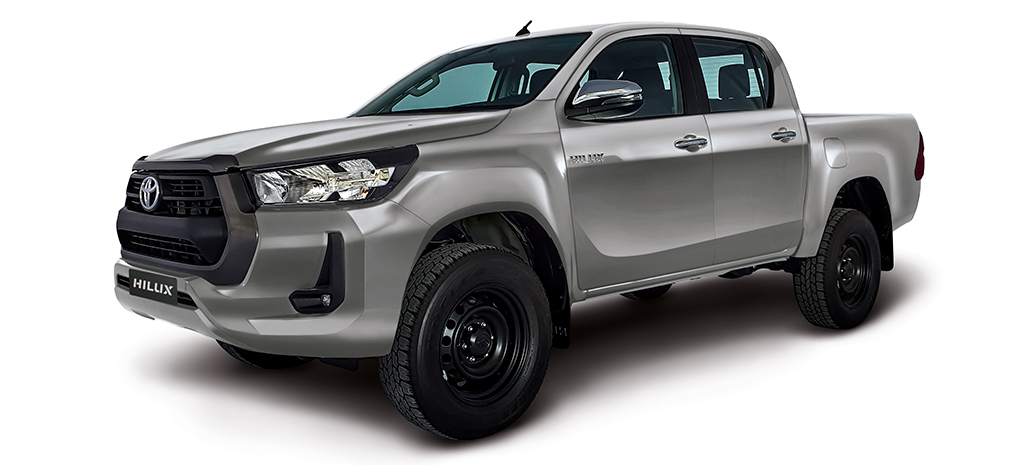 HILUX 2.4 E 4X2 M/T Super White
₱ 1,174,000
2.4L Diesel, 4-Cylinder, 16-Valve DOHC Variable Nozzle Turbo with Air-cooled Intercooler
Brochure
---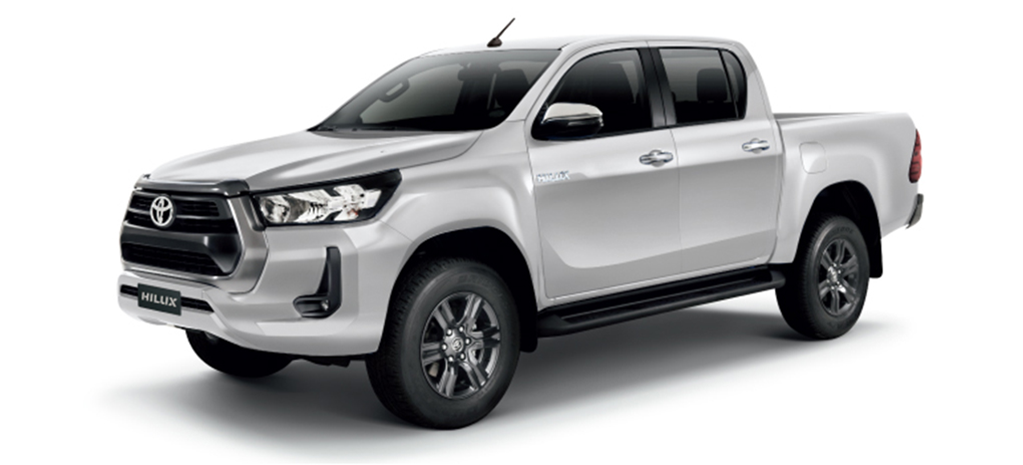 Download Hilux Brochure
124 E. Rodriguez Ave,
Brgy Ugong, City of Pasig, Metro Manila