COROLLA ALTIS 1.8 V HYBRID CVT Platinum White Pearl Mica
Starts at
₱ 1,610,000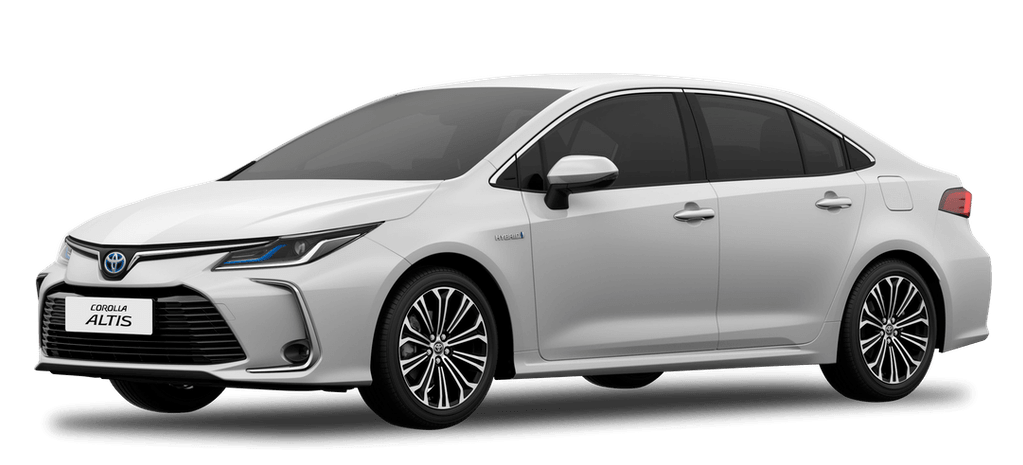 COROLLA ALTIS 1.8 V HYBRID CVT Celestite Gray Metallic
Starts at
₱ 1,595,000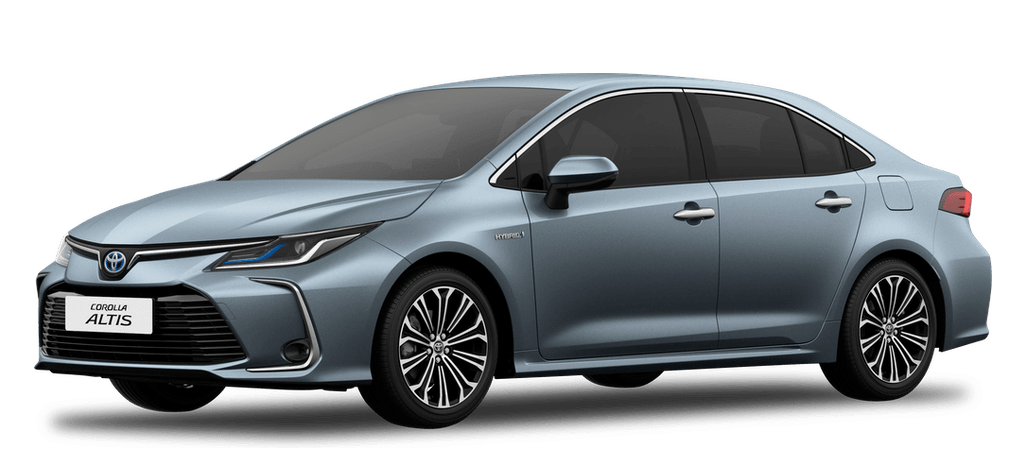 COROLLA ALTIS 1.6 V Platinum White Pearl Mica
Starts at
₱ 1,230,000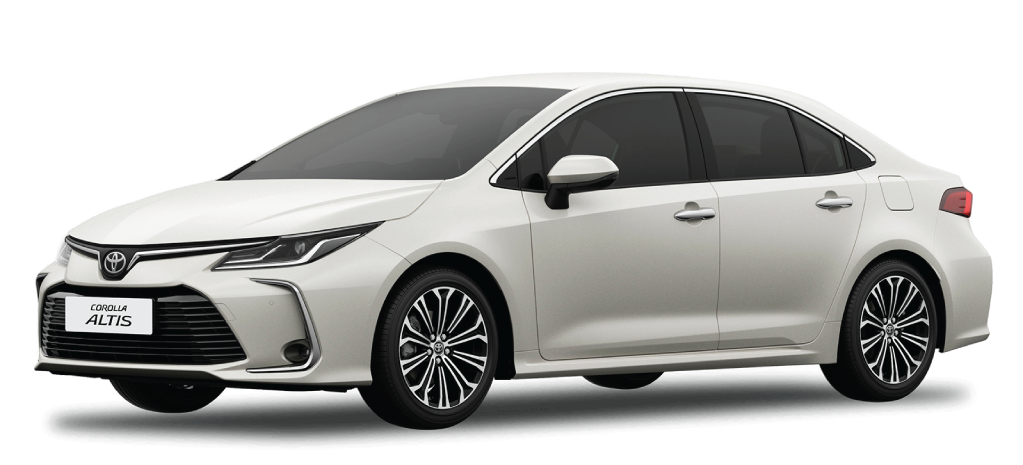 COROLLA ALTIS 1.6 V Celestite Gray Metallic
Starts at
₱ 1,215,000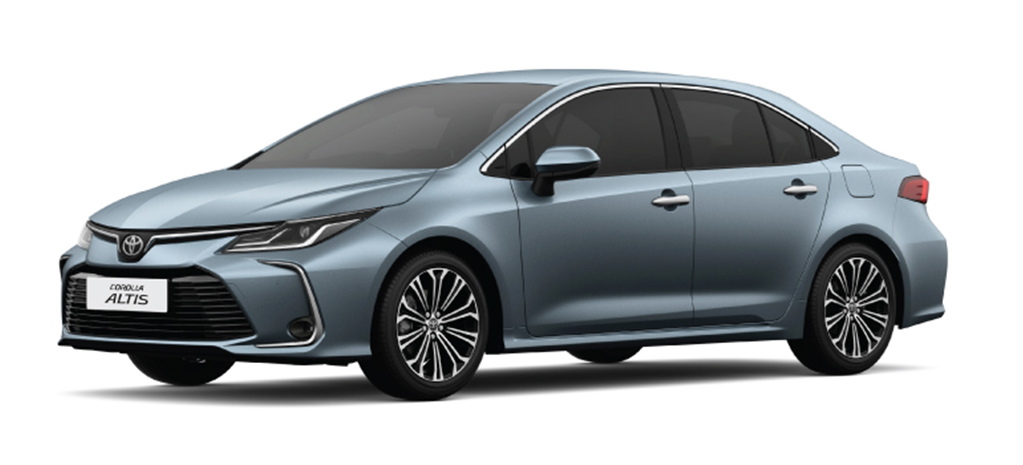 COROLLA ALTIS 1.6 G CVT Attitude Black Mica
Starts at
₱ 1,130,000
COROLLA ALTIS 1.6 E M/T Super White II
Starts at
₱ 1,014,000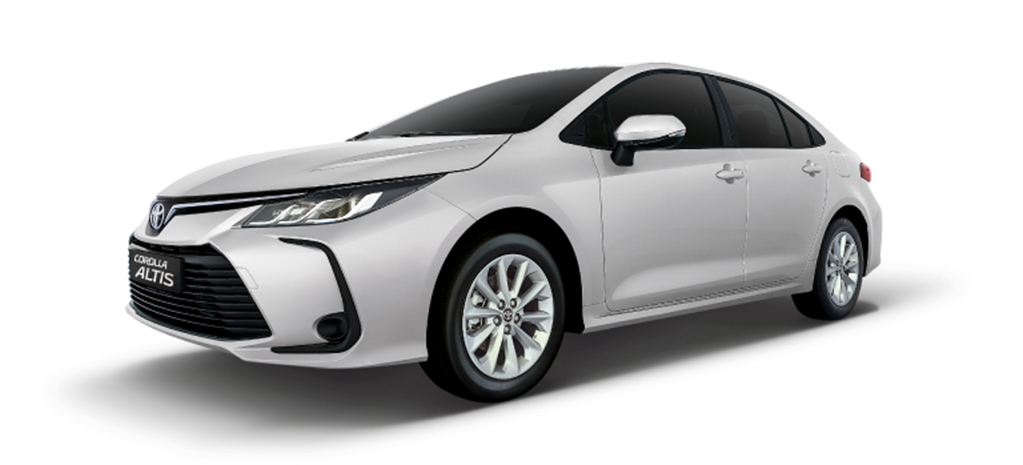 Video
---
Features
---
Sportier aesthetic
The new Corolla Altis has a bolder, more modern style, and an overall futuristic vibe that deviates from the design of its predecessors — including a restyled front fascia, a new rear spoiler, new headlights, and a wide grille with round foglamp.
Style Upgrade
From blue lighting, premium flaxen color, chic chrome accents, electrochromic mirror, 3-spoke steering wheel with mounted controls, and leather upholstery, the Corolla Altis aesthetic is revamped to fit a more modern landscape.
Power and Fuel Efficiency In One
Equipped with a 2.0-liter mill and a CVTi-S transmission, the Corolla Altis delivers solid, smooth, and stable driving on almost every surface. With its ECO driving mode that can be manually switched on and off, you can even save up on fuel by easing gas pedal output and adjusting the air conditioning – all without sacrificing quality or performance.
Drive Safe and Easy
Leveled up safety features adorn the new Toyora Altis — including daytime running lights, Vehicle Stability Control, Cruise Control, 7 SRS airbags, and Seatbelt Warning for maximum safety and security during every trip.
Well-Tuned Audio and Navigation Systems
The Entune Audio Plus infotainment system includes a 7-inch touch-screen display that lets you play music (via USB jack or Bluetooth), or get directions from the Scout GPS Link App via a connected smartphone. Controls can be accessed on the steering wheel, or via the vehicle's advanced voice recognition.
Specifications
---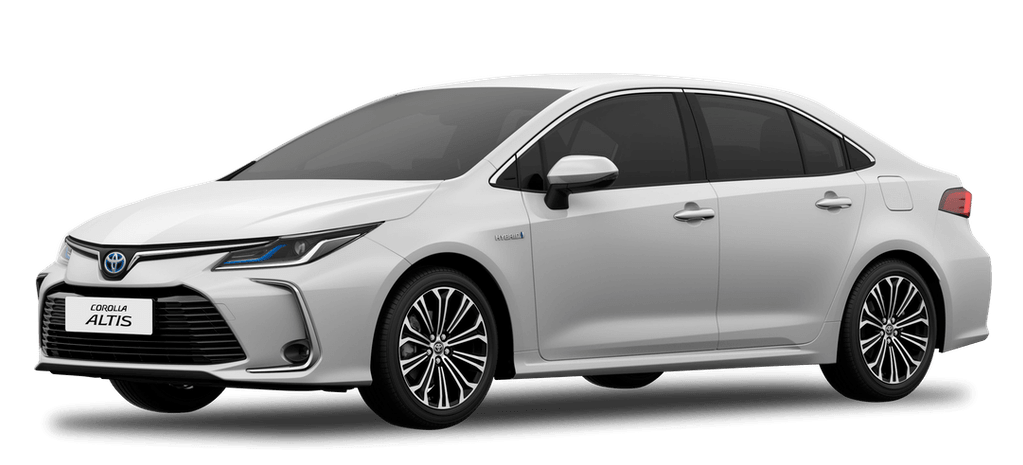 COROLLA ALTIS 1.8 V HYBRID CVT Platinum White Pearl Mica
₱ 1,610,000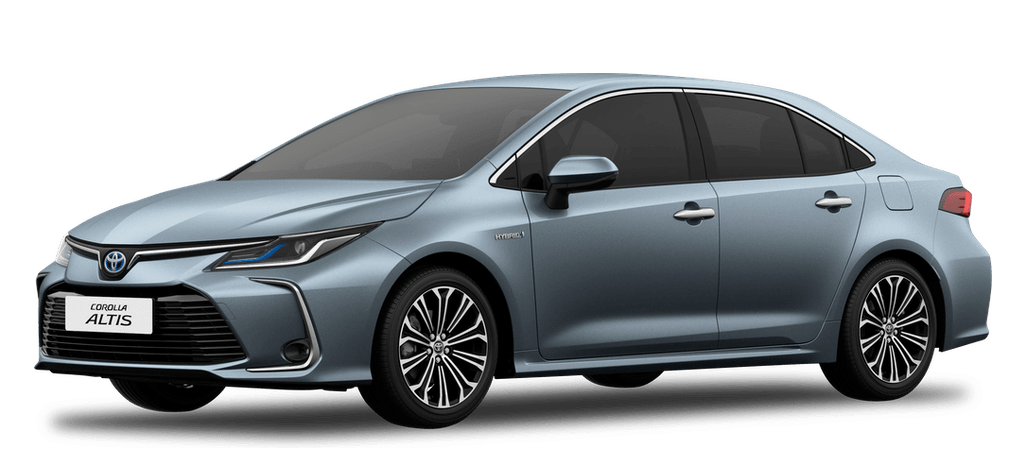 COROLLA ALTIS 1.8 V HYBRID CVT Celestite Gray Metallic
₱ 1,595,000
VVT-I, 4-Cylinder In-Line DOHC, 16 Valve + Electric Motor
VVT-I, 4-Cylinder In-Line DOHC, 16 Valve + Electric Motor
Ventilated Discs / Solid Discs
Ventilated Discs / Solid Discs
Aluminum Alloy with Machined Finish
Aluminum Alloy with Machined Finish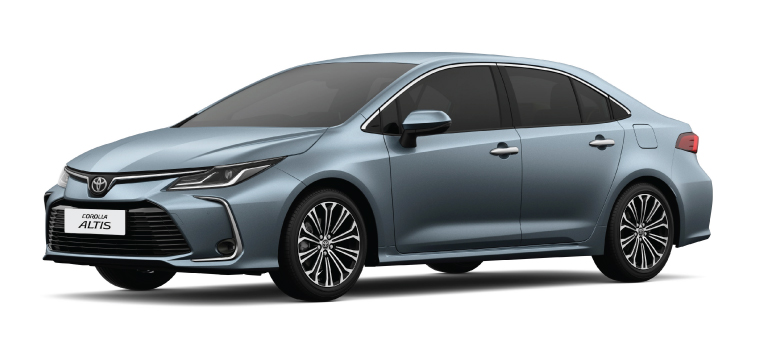 COROLLA ALTIS 1.6 V Celestite Gray Metallic
₱ 1,215,000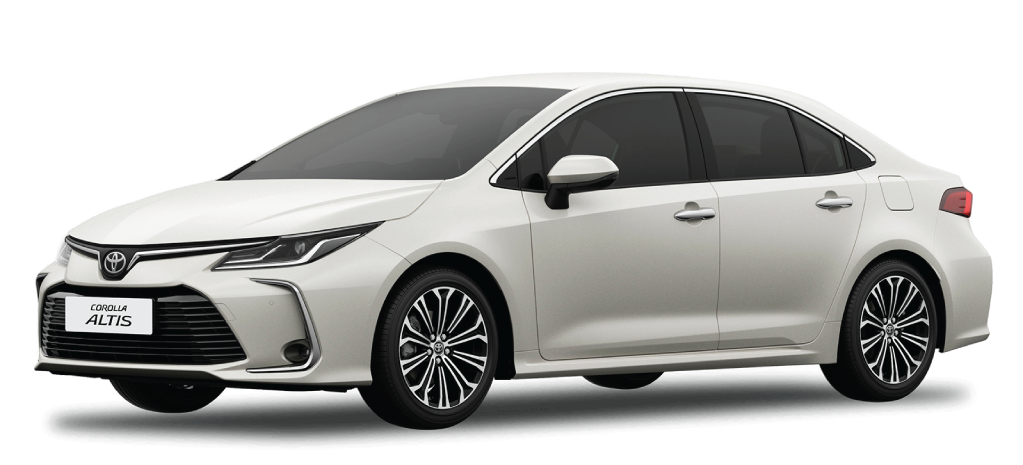 COROLLA ALTIS 1.6 V Platinum White Pearl Mica
₱ 1,230,000
Dual VVT-I, 4-Cylinder In-Lin DOHC, 16 Valve
Dual VVT-I, 4-Cylinder In-Lin DOHC, 16 Valve
Ventilated Discs / Solid Discs
Ventilated Discs / Solid Discs
Aluminum Alloy with Machined Finish
Aluminum Alloy with Machined Finish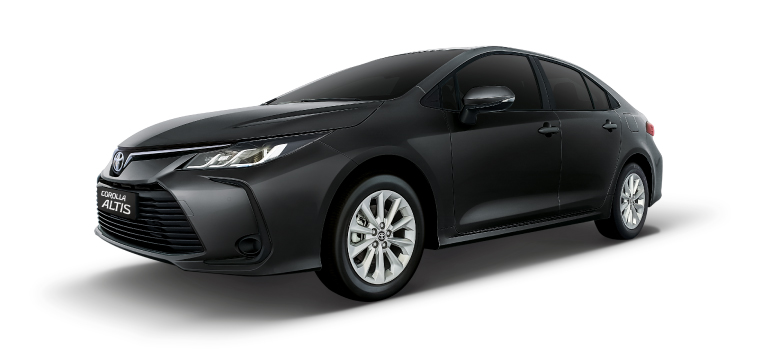 COROLLA ALTIS 1.6 G CVT Attitude Black Mica
₱ 1,130,000
Dual VVT-I, 4-Cylinder In-Lin DOHC, 16 Valve
Ventilated Discs / Solid Discs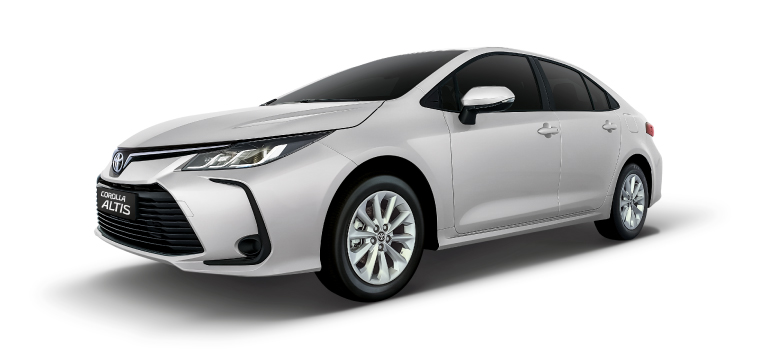 COROLLA ALTIS 1.6 E M/T Super White II
₱ 1,014,000
Dual VVT-I, 4-Cylinder In-Lin DOHC, 16 Valve
Ventilated Discs / Solid Discs
Brochure
---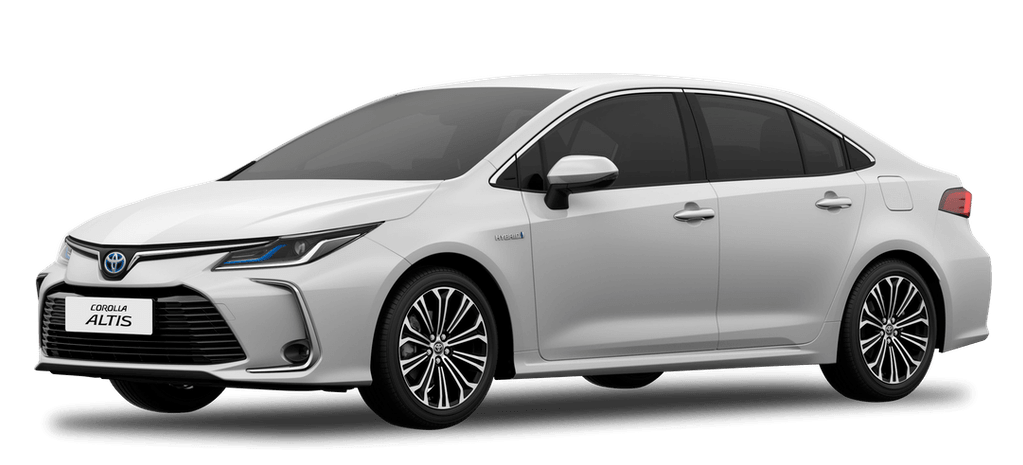 Download Corolla Altis Brochure